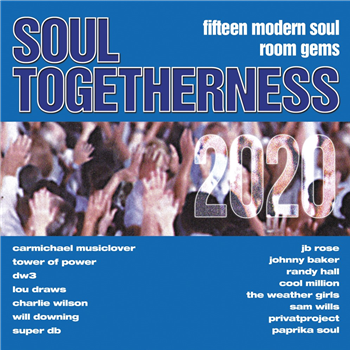 Various Artists - Soul Togetherness 2020
Tower Of Power-Addicted To You / Carmichael Musiclover-Pure Sweetness / Dw3-Never Gonna Stop / Lou Draws-Come Over / Charlie Wilson-Forever Valentine / Will Downing-Right Where You Are / Super Db-Kool Funk (Chris Bangs Extended Remix) / Jb Rose-Back To Love / Johnny Baker-It's Your Night / Randy Hall-A Beautiful Dream  / Cool Million Featuring Matthew Winchester-Keep On (Boogie Back Mix) / The Weather Girls-Stand Up (Rob Hardt Mix) / Sam Wills-Undercover / Privatprojekt Feat. Stefanie S. And Nigel Lowis-Don't Walk That Way (Chic A Delic Xtended) / Paprika Soul-Standing Right Here?
Audio samples coming soon...
More on
EXPANSION RECORDS