Nu Tone - Back Of Beyond LP
A. Take Me Back B. Deep Old C. Say Hello, Wave Goodbye D. Goofy E. Never Together F. Jet Stream - Hospital Records,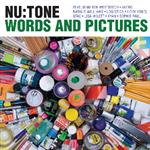 £1.50 (£1.80 inc.vat)
Out Of Stock!
View Full Info
Nu Tone - Words And Pictures CD
01 Shine In Feat. Natalie Williams02 Coming Back Feat. Heidi Levo 03 The Feeling Feat. Ben Westbeech 04 The First Time Ever Feat. Natalie Williams 05 Piece Of You Feat. Stac 06 Broken Feat. Kyan 07 Wi...
NHS184CD
Hospital Records