Prefuse 73 - The Forest Of Oversensitivity CD
Overkill Choir / Relief Choir / Preparation's Kids Choir (Can't Dance No More Version) / Always Alone Choir / Simple Loop Choir (Bad Memory Version) : Warp,
PLAY

QUEUE

Redeye No.: 50368
Label: War
Catalogue No.: WAP 271CD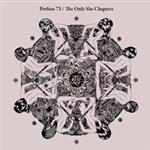 £2.25 (£2.70 inc.vat)
View Full Info
Prefuse 73 - The Only She Chapters
01. The Only Recollection Of Where Life Stopped02. The Only Valentine's Day Failure03. The Only Contact She's Willing To Give (Feat. Faidherbe)04. The Only Chamber Resolve05. The O...
Warp Records
WARPLP208
Out Of Stock

£1.00 (£1.20 inc.vat)
View Full Info
Prefuse 73 - The Forest Of Oversensitivity LP
Overkill Choir / Relief Choir / Preparation's Kids Choir (Can't Dance No More Version) / Always Alone Choir / Simple Loop Choir (Bad Memory Version) : Warp,
War
WAP-271
Out Of Stock