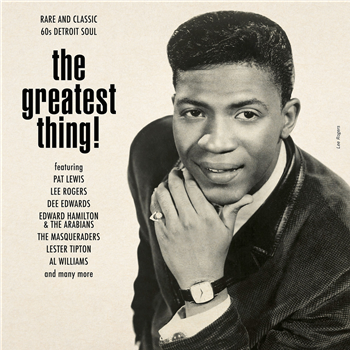 Various Artists - The Greatest Thing!
1. Rose Battiste-Hit & Run 2 Lester Tipton-This Won't Change 3. Edward Hamilton & The Arabiansbaby Don't You Weep 4. The Masqueraders-How 5. The Fabulous Peps-My Love Looks Good On You Side Two 6. Al Williams-I Am
nothing 7. Silky Hargraves-I'll Keep On 8. Buddy Lamp-Next Best Thing 9. Lillian Dupree-Hide & Seek 10. Pat Lewis-(I Owe You)
something Side Three 11. Dee Edwards-All The Way Home 12. The Dramatics-If You Haven't Got Love 13. Steve Mancha-Did My
baby Call 14. The Detroit Executives-Sho-Nuff Hot Pants 15. Barbara Jean & The Lyrics-Why Weren't You There Side Four: 16. Lee
rogers-I'm A Practical Guy 17. Herbie Thompson-Let Your Love (Grow Stronger) 18. Cody Black-Too Many Irons In The Fire 19. Leah
dawson-You Got To Change (Your Evil Ways) 20. Dee Edwards-The Greatest Thing
Audio samples coming soon...
Redeye No.: 65697
Label: Tuff City
Catalogue No.: TCUK 2LP9102
PRE-ORDER ITEM
£4.00 (£4.80 inc.vat)