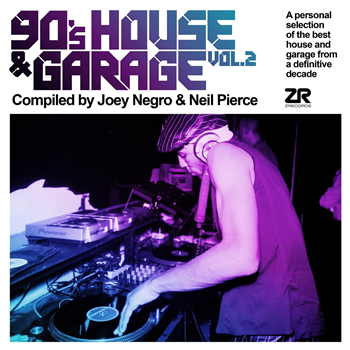 Various Artists - 90's House & Garage Vol. 2 Compiled By Joey Negro & Neil Pierce
A1. Elé Ferrer - I'll Make U Happy Baby (X-Tended Club Mix)

a2. N-Joi – Anthem (Kerri Chandler Distant Run Mix)

a3. Slam Mode - 100% Power

b1. United Future Organization - Flying Saucer (Kings Of Tomorrow Remix)

b2. Mama's Children Feat. Lee Truesdale – Let Us All Be Friends (Colonel Abrams Original Mix)

b3. Abacus - Moonbeamz

c1. Alexis P Suter - All Night Long

c2. Mental Instrum - Music On My Mind (Smack Productions Mix)

c3. Fini Dolo – Blow (Restless Soul Poetic Peak Time Mix)

d1. Cassio Ware - Makin' Love (Mentalinstrum Remix)

d2. Screamin' Rachel - Rock Me (The Marshall Jefferson Deep Underground Dub)

d3. Sound Source - A Naked Theme (Source Mix 1) : Z Records,
Audio samples coming soon...
Redeye No.: 143623
Label: Z Records
Catalogue No.: ZEDDLP47