Releases on
Hay, Reid & Smith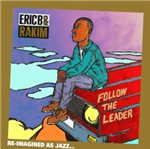 £13.00 (£15.60 inc.vat)
Out Of Stock!
View Full Info
Jonathan Hay, Benny Reid, Mike Smith - Follow The Leader: Re-Imagined As Jazz...
Follow The Leader / Microphone Fiend / Lyrics Of Fury / Eric B. Never Scared / Just A Beat / Put Your Hands Together / For The Listeners / No Competition / The R / Musical Massacre / Beats For The Lis...
L-SAH001
Hay, Reid & Smith
Audio samples coming soon...