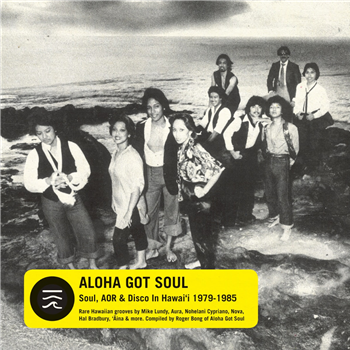 Various Artists - Aloha Got Soul
A1. Tender Leaf - Countryside Beauty
a2. Aura - Yesterday's Love
a3. 'aina* - Your Light
a4. Lemuria - Get That Happy Feeling
b1. Roy & Roe - Just Don't Come Back
b2. Hawaii - Lady Of My Heart
b3. Hal Bradbury - Call Me
b4. Mike Lundy - Love One Another Aloha Got Soul
c1. Nova - I Feel Like Getting Down
c2. Nohelani Cypriano - O'kailua
c3. Brother Noland - Kawaihae
c4. Marvin Franklin With Kimo And The Guys - Kona Winds
d1. Greenwood - Sparkle
d2. Chucky Boy Chock & Mike Kaawa With Brown Co. - Papa'a Tita
d3. Steve & Teresa - Kaho'olawe Song
d4. Rockwell Fukino - Coast To Coast : Strut,
Audio samples coming soon...
Redeye No. 73095
Label Strut
Catalogue No. STRUT133LPC
Pre-Order! - Out Of Stock!